PHASE 2 - PROJECT DESCRIPTION


The Dolbeau-Mistassini theatre is a sober and spectacular building, boasting a strong and structured urban presence. The project takes advantage of the Saint-Michel school's former gymnasium as well as part of its basement and ground level parallel to de l'Église Avenue. The recycled space represents 30% of programmed surfaces.
The project is organized along a processional path, from street to auditorium. A wooden esplanade creates a public place and a privileged civic area open to the city. The building's entrance sits on its axis, framed by a pair trees. Past a few steps, the ground floor extends throughout. A hall leads to the foyer that constitutes the heart of the project with its center three steps below the main level. An exterior court and a bar looking towards the church border this assembly space. The foyer is at the crossing of two axes: the long axis leading to the auditorium and the transverse axis connecting the alley to bar and court.
The auditorium entrance is positioned at the center of the long axis. Its doors are the unique entry point, for ease of control and identification. Front and back of house form a unique external volume. This gives greater height to the auditorium with its balcony. Its semi circular shape creates a wrapping effect and recalls horseshoe theatres where audience mood is maximized by bringing the public closer together. The balcony, slightly shifted in plan from the orchestra, proposes a strong architectural identity, without dominating the audience below. The circular configuration maximizes the amount of seats to 490 (above 480 required by program). The orchestra's gentle slope is ideal for live performances and brings the balcony at a comfortable height. Corporate boxes can be planed for at the balcony's edges.
The backstage is a separate and dense block, creating, with the former Saint-Michel school, an intimate court for the public and future community groups. Its position makes it a practical link between the dressing rooms and the service spaces and connects the project's three centers of activity: stage, foyer and exterior court.
Powerful architecture is structured according to clear, organized and well proportioned geometry. The theatre, with its modest and limited budget, and its sober materials, is designed for maximum flexibility and ease of use. It is intended to become a space that the public will appropriate for a myriad of activities.


PANELS 1, 2 AND 3 PDF DOWNLOAD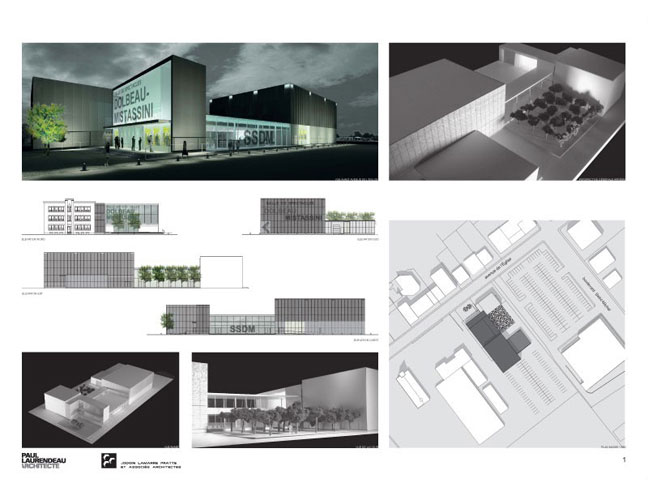 PANEL 1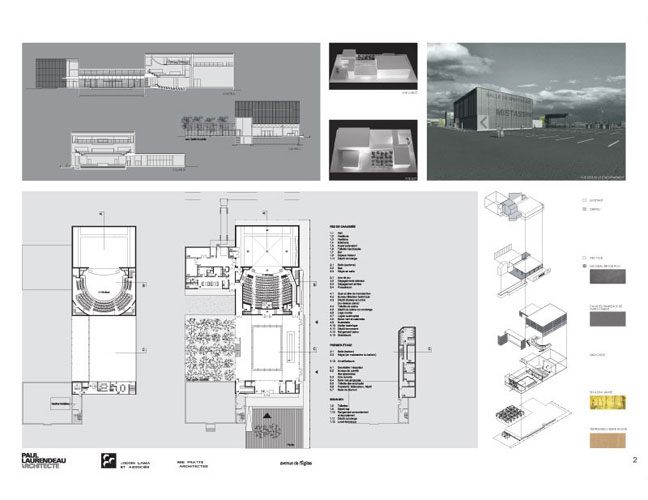 PANEL 2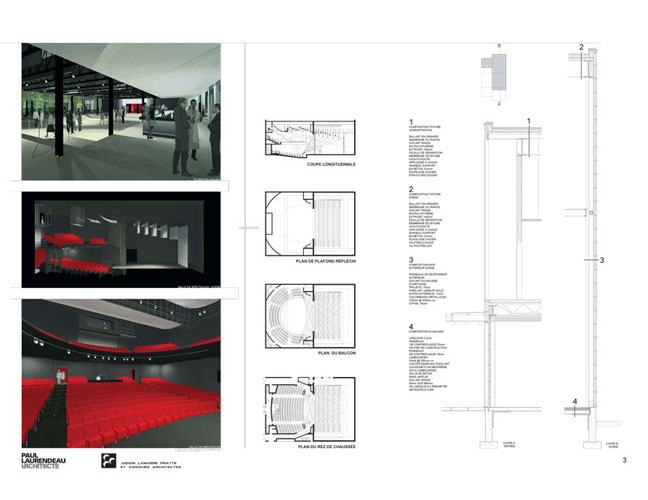 PANEL 3